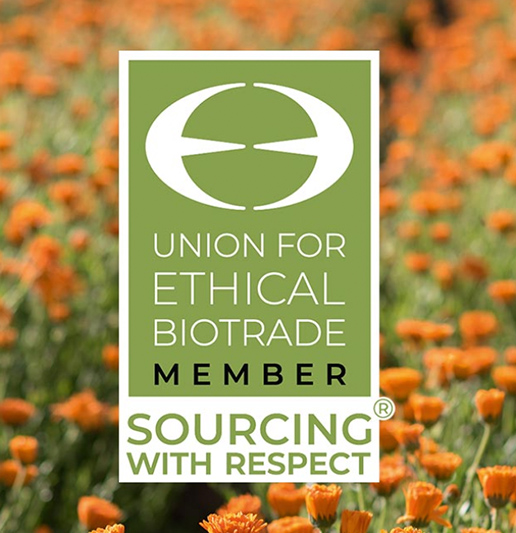 We tell you why this is great news, for the brand, for consumers and for nature.
What is UEBT?
UEBT (Union for the Ethical Biotrade or Union pour le Bio Commerce Ethique) is a European non-profit association that promotes sourcing with respect. UEBT supports and verifies corporate sourcing commitments that contribute to a world in which all people and biodiversity thrive.  To this end, UEBT establishes good practices on how companies and their suppliers source ingredients from biodiversity for the beauty, food, natural pharmaceuticals, flavors and fragrances, herbs and spices, among others.
What does the UEBT label mean?
The UEBT certification is awarded to companies that meet the criteria of the Bio Commerce Ethics standard. These companies, which Yves Rocher now joins, are brands that are committed to an ethical sourcing of ingredients from biodiversity.
The certification label is defined according to these seven principles:
1. Conservation of biodiversity
2. Sustainable use of biodiversity
3. Fair and equitable sharing of benefits arising from the use of biodiversity
4. Socio-economic sustainability (production, financial and market management)
5. Compliance with national and international legislation
6. Respect for the rights of actors involved in bio-commerce activities
7. Transparency on land tenure, exploitation rights and access to natural resources
What does this mean for Yves Rocher?
At Yves Rocher, we are committed by nature. Since 1999, our 60 hectares of organic fields are cultivated in agroecology in Brittany.  Already a member of the UEBT since 2020, Yves Rocher takes an additional step towards the protection of species and humans thanks to the UEBT certification of its Gacilian sectors in 2021.
The 9 emblematic plants of the brand, Roman Chamomile, Matricaria Chamomile, Cornflower, Calendula, Ficoïde, Edulis, Nasturtium, Mint and Arnica are now UEBT certified.
The certification of our Gacilian supply chains is a first step in our sustainable sourcing approach as Yves Rocher aims to have his entire sourcing system certified by 2023.
Working with UEBT is a powerful way for Yves Rocher to prove our commitment to consumers, governments and other actors in the supply chain.
What is the difference between UEBT and organic certification?
The UEBT certification and the Organic Agriculture certification are two distinct but complementary certifications. The Ethical Bio Trade standard requires practices that respect biodiversity, such as the protection of forests, endangered species and pollinators, the enrichment of natural ecosystems and the reduction of pesticides; but UEBT standards above all advocate human and social respect within a more global supply framework. The UEBT principles are therefore particularly demanding on workers' rights, the protection of the rights of local communities, the sharing of benefits resulting from the use of resources derived from biodiversity, etc.
In addition, the two certifications require agricultural practices that are more respectful of the environment: AB certification by respecting predefined specifications, and UEBT certification by drawing up a rigorous action plan in favour of the biodiversity.