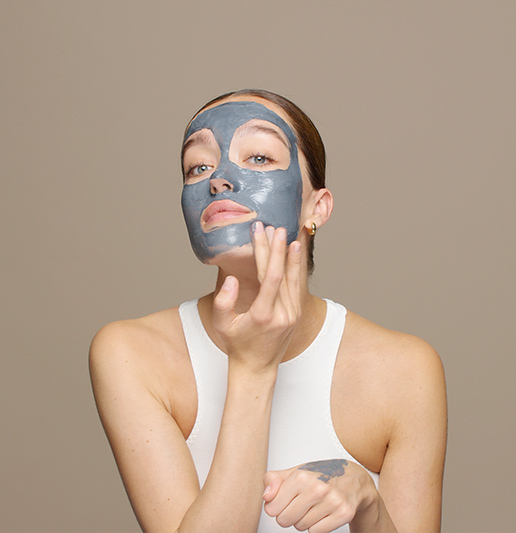 The face mask is a real secret for a radiant skin, but you have to choose it well.
It is a key step in your beauty ritual and a real moment for yourself, giving your skin a real boost. Once or twice a week it completes your daily skin care ritual.
With a formulation highly concentrated in active ingredients and a thick texture, our face masks act on the different layers of the epidermis. It is a real source of rejuvenation to rebalance your skin and restore its radiance and vitality!
Once or twice a week, perform a scrub and then a face mask adapted to your skin type. Apply a small amount of scrub to moistened, cleansed skin all over your face with circular movements. Avoid the sensitive area around the eyes. Then rinse.
Exfoliation removes dead skin cells, boosts the radiance of the complexion and stimulates cell renewal for even more radiant skin.
Continue your skin care ritual with the application of a face mask adapted to your skin type. 
The charcoal mask to unclog pores and reduce blackheads 
Discover the charcoal mask from the Pure Menthe range, 98% natural origin, it unclogs pores and reduces blackheads. Excess sebum is absorbed, impurities are eliminated, the complexion is unified and radiant.
The clay mask to purify and matify the skin
Discover the clay mask from the Pure Mint range, formulated with organic Peppermint, known for its refreshing properties and grown in agro-ecology in our fields in La Gacilly. This mask purifies and matifies the skin intensely, reducing excess sebum, pores and impurities.
Its fresh gel texture enriched with clay leaves the skin purified and the complexion unified. 
The oxygenating mask to moisturize and replenish the skin
Discover the oxygenating mask from the Pure Algue range, 98% natural origin, enriched with Tetraselmis microalgae with oxygenating and antioxidant properties. It intensely moisturizes and replenishes the skin, while reviving its natural radiance.
[Beauty Tips] : Apply twice a week on a cleansed face. Avoid the eye area. Leave on for 5 minutes. Remove excess with a cotton pad.