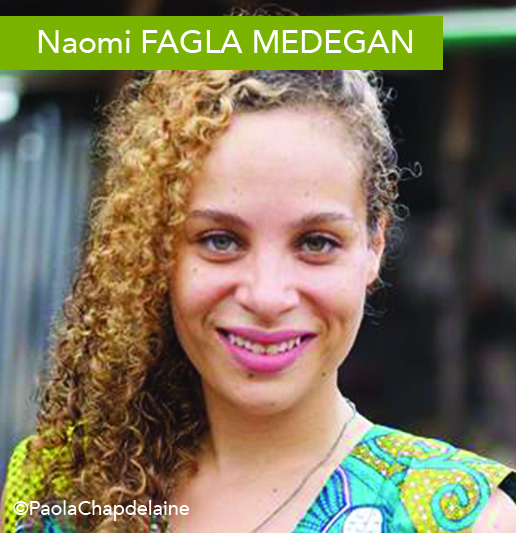 The Terre de Femmes prize, created in 2001 by Jacques Rocher, president of the Yves Rocher Foundation, is celebrating its 20th anniversary this year.
20 years old … it is often said that you are not serious at this age. The Terre de Femmes prize is, in any case and like all these winners, still very committed and for a very long time to come! This great adventure has come a long way. The actions carried out in terms of environmental preservation by these committed women now extend to 50 countries thanks to the 15 partner countries. And it's not over !
1st prize: Naomi FAGLA MEDEGAN, solidarity in the service of the environment.
The young woman who grew up in the Parisian suburbs was born to a Colombian mother and a father of Beninese origin. This human and cultural richness has always nourished Naomi, who, curious about others since her earliest childhood, always knew that she would travel to multiply encounters. After many experiences abroad, it is in Porto Novo, the capital of Benin, that Naomi settles. She opened the Comptoir du plastique there, an initiative rewarded by the Yves Rocher Foundation for its virtuous circular economy model based on the collection of plastic waste. Pragmatic, the young woman recruits people in precarious situations. They are responsible for sorting and collecting waste that is then recycled to be reused by manufacturers. This activity thus ensures a regular income to nearly a hundred people and initiates a real awareness.
2nd prize: Lotty MOREY, Guardian of a green Amazonian treasure.
Nothing makes her happier than being in the woods surrounded by nature, among the trees. Lotty Morey, president of the Amazon Biodiversity Association, is also the recipient of the 2021 Terre de Femmes prize from the Yves Rocher Foundation. This award recognizes her commitment to the preservation of the Amazon rainforest. Holder of a concession spanning 40,000 hectares in Peru (4 times the area of ​​Paris!), Lotty is working to carry out conservation work in this area of ​​the nature that she loves so much. In 2004, Lotty made a radical decision. She sells her business and invests all her money to save an area she has set her sights on. The place concentrates seven types of tropical forests and a particularly rich biodiversity. Accompanied by her team, she organizes, despite threats from traffickers, surveillance to protect the forest from the activities of poachers and works with families from 4 surrounding villages, i.e. 1,200 people to develop economic alternatives to logging.
3rd prize: Joanne Boachon is a young architect. Creative, she is also a woman committed to the environment. Winner of the 2021 Terre de Femmes prize from the Yves Rocher Foundation, Joanne distinguished herself by her commitment to a field that is still little known to the public, that of construction. Since 2017, through the Minéka association, she has been working in the Villeurbanne region to reuse materials used on construction and deconstruction sites intended for the dumpster.
Special Price 20 years:
Emilie Varraud, winner of the Terre de Femmes prize in 2014, is once again awarded this year by the Yves Rocher Foundation for her "Paniers de Thau". The initiative initially consisted of putting in direct contact the fishermen and shellfish farmers based on the shores of the Thau lagoon in the Héraut with customers wishing to consume locally and responsibly. Seven years later, the idea, which remains beautiful, has been emulated. It now brings together producers, breeders, market gardeners and demand has continued to grow. Artisanal preserves, dairy products, meat, breads, fruits and vegetables etc., the Baskets de Thau d'Emilie have grown and today bring together nearly 70 local producers, fishermen and oyster farmers.