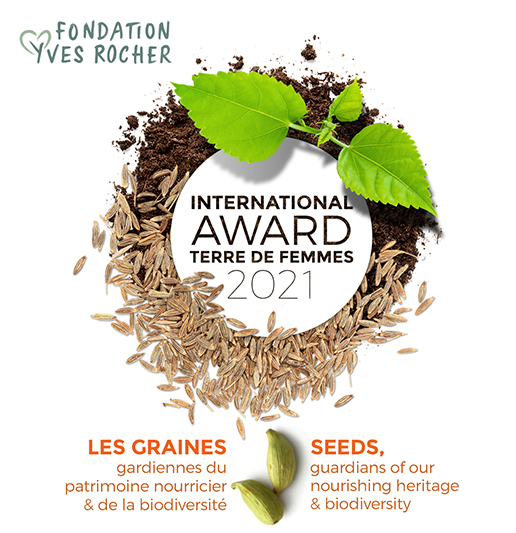 Everything you need to know about the Terre de Femmes International Award !
The Yves Rocher Foundation introduced a new award in 2019: Terre de Femmes International Award. 
Since its creation, the International Award rewards the actions of women who work in the charitable or solidarity sector.  The Terre de Femmes International Award in 2021 is themed around "Seeds, the guardians of our nutritional heritage & biodiversity", and will honor the importance of seeds in the preservation of our plant heritage. 
Once upon a time, Ruhama Getahun, 2019 laureate.
Ruhama, the first Laureate to receive the Yves Rocher Foundation International Award, has been working since 2012 to replant trees on soils
that have been damaged by deforestation in Ethiopia. She collaborates on replanting projects alongside the Green Ethiopia Foundation, who is also a partner of the Yves Rocher Foundation.
Concerned about environmental issues from childhood due to her father's work in water preservation, Ruhama grew up questioning the absurdity of mankind's destruction of nature. 
"Today I have the opportunity to act with my organization Integrated Women's Development and work to mobilize women. They're on the front line at every level. They contribute to environmental damage but cutting down the wood to make charcoal. The lack of water, degradation of soil and therefore of crops put them in a vulnerable position. They suffer the consequences of their actions. I'm working to reverse this trend! ". 
An award for women everywhere 
Women are on the frontline of the action, representing more than half the population. According to Ruhama, if we give them the tools to work towards a better future, they will actively help to protect the environment, guaranteeing a future for their children. 
With the new edition of the International Award being themed around seeds, the Yves Rocher Foundation is anchoring its roots firmly in the soil, leaving a positive impact on life and the planet. 
Do you have a project that helps biodiversity, with a social or environmental purpose? Do you work in the field of seeds and are looking for support to help progress your work? Or do you know any inspiring women who do? You have until November 15 to apply! 
Discover how to apply for the 2021 Terre de Femmes International Award on the Foundation's website  : 
https://www.yves-rocher-fondation.org/en/how-to-apply-for-the-international-award/