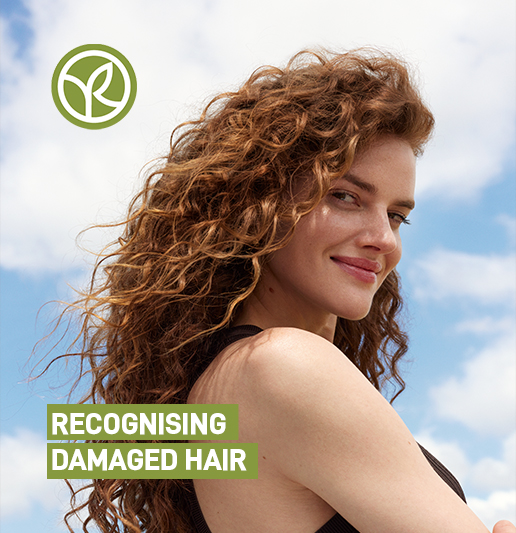 Is your hair weak, brittle with split ends? Find out how to protect your hair so that it regains its vitality, softness and shine.
Recognising damaged hair.
A hair fibre in poor condition is characterised by the alteration of its protective barrier, also known as the hydrolipidic film, leaving your hair more exposed to external aggressions and dehydration.
This makes the hair more brittle and the ends become dull, rough and brittle.
What is the hydrolipidic film?
Located on the surface of the scalp and composed of a mixture of water and sebum, it covers the scalp and hair fibre to protect them from external aggressions. By lubricating and smoothing the fibre, it contributes to the suppleness and shine of the hair.
When the hydrolipidic film is attacked, it no longer plays its role as an effective barrier against external aggression. Deprived of sebum, the scales that surround and protect the heart of the hair (the cortex) lift and the hair dries out. The hair then loses its natural protection, becomes dehydrated, dry, brittle and split ends.
Your hair becomes brittle making it difficult to detangle and weakening it.
Damaged hair fibre is often linked to :
To the nature of your hair itself
The use of excessive colouring or bleaching
Prolonged exposure to the sun without protection
An unsuitable hair care routine
Or the repeated use of heated appliances
Weakened, your ends split more easily, the scales come off and your hair becomes duller.
Advice from Yves Rocher experts
Damaged hair needs a lot of attention and care.
Gently wash and detangle
Often recommended for sensitive hair, after colouring or Brazilian straightening, sulphate-free shampoos allow for gentle washing of the lengths and thus preserve the hair fibre.
Intense repair overnight
For intensive repair, leave your balm on overnight. Do your ends remain split and dry? Don't forget to regularly trim the damaged area to limit breakage.

 

Protection against heating appliances
Opt for our Fortifying Heat Protection Serum which protects against heat up to 230°C