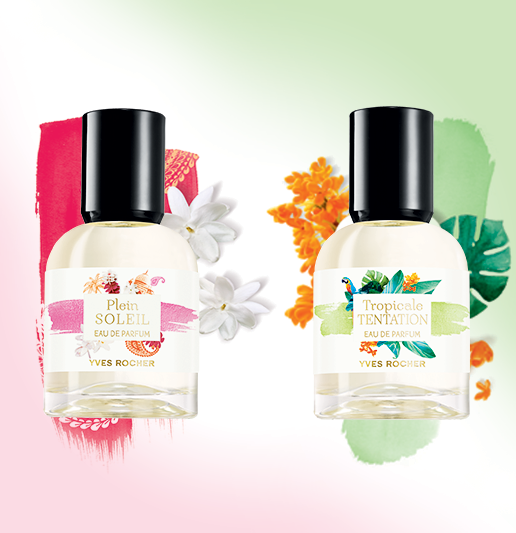 Because perfume is an essential gift on Valentine's Day, we invite you to discover the olfactory universe of Yves Rocher's new Eau de Parfum Collection to offer to your special someone or to hint as a gift idea for an unforgettable celebration of romance.
Feel your skin warmed by the sun. Feel the cool salty breeze. Enjoy the silence of an endless desert. Lose your gaze in a sky full of stars..  Created by the greatest noses of French perfumery, La Collection Parfums captures these magical moments, far from the tumult of everyday life. These fragrances are experiences. True, authentic fragrances that rejuvenate and resemble us.
Plein Soleil ; Floral and creamy
Plein Soleil Eau de Parfum allows you to indulge in a colorful, hypnotic escape. Tuberose petals and Ylang-ylang flowers, with their smooth and radiant fragrance, embrace the slow wave of Sandalwood. A few drops of Cardamom awaken this mesmeric floral melody with a burst of freshness.
Tropicale Tentation; Fresh and fruity
Tropicale Tentation Eau de Parfum is a burst of aromas, embodying the "joie de vivre" with its fresh and fruity notes.  Golden Osmanthus flower, native to China with its luscious and tangy scent, is reminiscent of both Jasmine and Apricot nectar. Paired with the juicy, delectable aroma of Bitter Orange, it leaves behind a fresh and fruity trail that's both explosive and delicious.