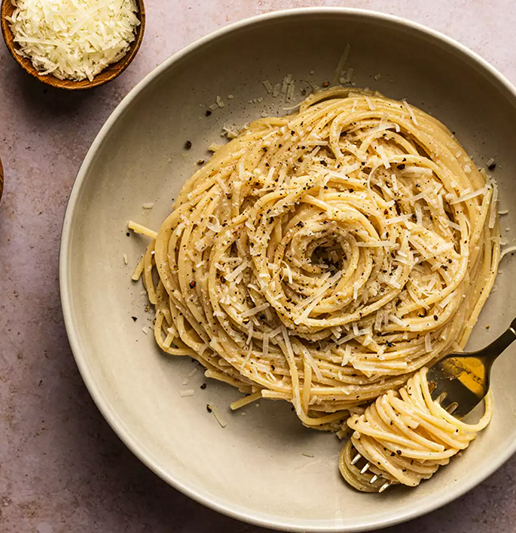 Cacio e Pepe pasta for a tasty meal in minutes with Concepts.
Make a tasty meal for the whole family with Concepts! Take advantage of this month's special offers to discover or rediscover our Pasta Reggia, our spices and treat yourself to pots and pans and kitchen utensils at irresistible prices.
Ingredients for 4 people :
Spaghetti 500 g
Water 4 l
Coarse salt 10 g
Pecorino/Parmesan 80 g (or another hard cheese of your choice)
Pepper 8 turn
Method
For the spaghetti
Bring the water to boil, add the salt.

 

Pour in the spaghetti and cook al dente according to the instructions on the Pasta Reggia pack, but 2 minutes less.
For the sauce
While the spaghetti is cooking, grate the cheese very finely.
Mix the grated cheese with the pepper.
After the pasta has been cooking for 3 minutes, pour a ladleful of the cooking water into a pan and add the grated cheese. Mix to a creamy consistency, adding more water or cheese if necessary.
Remove from the heat.
Drain the pasta, keeping the cooking water, which is necessary to give the dish a creamy texture.
Add the spaghetti to the sauce off the heat. Mix, adding a little cooking water to obtain the perfect mixture. Add more cheese and a few turns of the pepper mill and serve hot.
Enjoy your meal!
CLICK HERE 👈  to discover our FOOD section