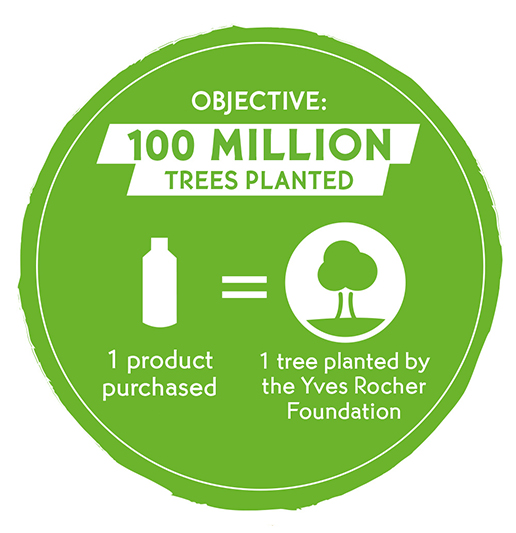 The Yves Rocher Foundation celebrates 100 million trees planted!
"Without the trees, we are nothing. We should be obsessed with plants", Jaques Rocher, President of the Yves Rocher Foundation.
The Plant for the Planet program
In 2007, the Yves Rocher Foundation launched the Plant for the Planet program. A tree-planting program to revive our soils, push back the deserts and reconnect humans to the energy of Nature and the magic of trees.
That same year, Jacques Rocher met Wangari Maathai, the first African woman to receive the Nobel Peace Prize, and pledged to plant one million trees as part of the Plant for the Planet program.
Celebrating 100 million trees planted by the end of 2020
13 years after this beautiful meeting, one million trees became 100 million trees planted by the Yves Rocher Foundation: the goal for 2020 was achieved! A real commitment to a cause, and an exemplary show of solidarity.
As the Yves Rocher Foundation's very first sponsor, the Yves Rocher brand would like to congratulate the Foundation for reaching its goal. And these results are also down to you, the brand's loyal customers: when you buy one Yves Rocher Shower Gel Concentrate or one Yves Rocher Concentrated Shampoo, you help the Yves Rocher Foundation plant a tree, and thus contribute to protecting the planet!
Coming together in the name of biodiversity
By planting trees with its community of thousands of planters, the Yves Rocher Foundation is choosing to embrace life and biodiversity.
Why plant a tree? Trees and forests are essential for soil stability, protect our water resources and play a key role in the face of climate change. As the sentinels of the plant world, trees also provide shelter for animals and plants, and are a symbol of hope, longevity and wisdom.
Since its creation, the Yves Rocher brand has supported the Foundation in its choices, and does not hesitate to get its many employees and partners involved in contributing to reforestation and preserving our shared future.
Today, thanks to more than a million people working on the ground, a tree is planted every three seconds!
What's your reason for planting?
Interested in joining the community of planters and getting involved with the Yves Rocher Foundation? Get all the details here: http://www.yves-rocher-fondation.org/en/plant-for-the-planet/